Coretta Scott King's funeral in Atlanta


Public viewing will be held at Georgia Capitol



Nation/World
February 3, 2006
BY ERRIN HAINES
ASSOCIATED PRESS

Coretta Scott King at home in Atlanta shortly after her husband, Dr. Martin Luther King Jr., was slain. Her funeral is Tuesday in suburban Atlanta, but the family hadn't released details on a burial site Thursday. (1968 Associated Press photo)

To offer condolences
Cards can be sent to the King family at:

The King Center
449 Auburn Ave. NE
Atlanta, GA 30312

ATLANTA -- Coretta Scott King will be given a public viewing in the rotunda of the Georgia Capitol at the governor's invitation, her family announced Thursday in a measure of how far the South has come since the civil rights era.

The King family announced funeral plans for the widow of Dr. Martin Luther King Jr. that include a viewing at the Capitol on Saturday; another viewing Monday at Ebenezer Baptist Church, King Jr.'s longtime pulpit, and a funeral in suburban Atlanta on Tuesday at the 10,000-seat New Birth Missionary Baptist Church, where the Kings' youngest child, Bernice, is a minister.

King, 78, died Tuesday at an alternative medicine clinic in Mexico where she had sought treatment for ovarian cancer.

Republican Gov. Sonny Perdue's offer of a viewing at the Capitol was in stark contrast to what happened after the assassination of Dr. Martin Luther King Jr. in 1968.

Then-Gov. Lester Maddox, a fiery segregationist, refused to close the Capitol for the funeral and expressed anger over the flying of state flags at half-staff. Perdue has ordered that all flags on state property fly at half-staff until Coretta Scott King's funeral.

The King family has not released details about the burial. However, the family may bury King at the South-View Cemetery in Atlanta, said Winifred Hemphill, the cemetery association's president.

South-View is a historically black cemetery founded by former slaves in 1886. Dr. Martin Luther King Jr.'s parents and maternal grandparents are buried there.

Dr. Martin Luther King Jr. was originally buried there but now lies in a crypt at the King Center near Ebenezer Baptist. However, the tomb is only a single-person crypt, Hemphill said.

We Can Still Change America


The Legacy of Coretta Scott King
By Rep. CYNTHIA McKINNEY
February 1, 2006

When I first heard the news about the death of Coretta Scott King I was at once both shocked and saddened. Although Mrs. King belonged to her children and cousins and nieces and nephews, she also belonged to us--the American people and the family of black people all over the world.

When she was alive, there was a sense of comfort. Mother King guarded us, protected us; she helped set this country free when she picked up Martin's cross.

I was given the privilege of speaking at this year's Martin Luther King ceremony at Ebenezer Church. Due to illness, she watched the proceedings on the television, not able to be there with us. Our love went out to her then and it does so now. I love the King Family as do we all. Her vision and Martin's vision moved our country forward.

In 1963 Dr. King spoke of Stone Mountain, Georgia. I now represent Stone Mountain, Georgia. Change is possible in our country. It is possible for people of conscience to come together and move this country forward.

What Mrs. King embodies will not be extinguished. She is our Queen Mother. And we should spend this day reflecting on her life, her legacy, her spirit, and what we will do in our lives to further Martin and Coretta's vision for our beloved community.

My condolences to all the members of the King family; and to Martin III, Yolanda, Dexter, and Bernice.

In every sense of the word, they were our first family and now we look to the children to wear the family's mantle.



http://www.counterpunch.org/mckinney02012006.html
Mama Coretta King

The Post (Lusaka)
February 3, 2006
Gabriel Banda
Lusaka

OF course, many have heard that Mama Coretta Scott King passed away in the night of Monday January 30, 2006. This is after recently celebrating 20 years of the inauguration of the Martin Luther King Jr holiday. Born April 1927, she was going on to 79 years old. Mama Coretta King suffered a stroke in August 2005. Mama Coretta King visited Zambia, opening the Martin Luther King Jr Cultural Centre in Lusaka. To us the living, as Mrs Medgar Evers, a companion of another great human rights campaigner Medgar Evers, titled her book, there are many lessons from Mama Coretta Scott King's life.

Mama Coretta Scott King was more than a wife of Martin Luther King, Jr. She was a companion on a common journey they shared with millions around the world.

Mama Coretta King was there in all protest marches. "This was a unique individual," an observer told BBC's Judy Swallow on Tuesday, "Just like Dr King, she was a visionary." Lest the message of MLK and others is forgotten, since 1969, a year after the assassination of Dr King, she nourished the Martin Luther King Jr Centre for Non-Violent Social Change and was "an elegant spokesperson for peace and non-violence." Even after the assassination of MLK, she worked against hatred and bitterness. When Africa's states were getting independence, there was still organised racism and apartheid in the USA.

That is a country whose constitution pledged equality of all citizens, yet others were more citizens than others, and others enslaved by others. Slavery still marks one of the crudest expressions of human behaviour, where one person sells, for cash, another human being.

Systematically, African Americans and Native Americans were deprived of their family base. For African Americans, the separation started right in Africa where members of one family would be split and sent to different parts of the world. In the 1960s, American governments supported racist governments in Rhodesia and South Africa, delaying the release of Nelson Mandela.

Mrs Coretta Scott King, worked together with Dr King and others in great sense of purpose. Sometimes we forget that members of families, communities, and teams may be working together on issues of the common good and must continue with the tasks, like a relay of the same team. This team is linked up with people in other parts of the world. Like-minded spouses and family members can do a lot for humanity, nourishing dreams for the common good.

During those times, my sister, singer Joan Baez, a sample of great humanity marched with MLK, singing We Shall Overcome. Andrew Young and Jesse Jackson, Dr King's co-workers have continued with the work of their slain colleague.

We note that the struggle for human justice has been with us before Martin Luther King Jr, Mohandas Gandhi, the "Mahatma," or "great soul." Before Gandhi, others stood up. They have been above borders, realising the dignity and common base of humans and life itself.

There are different outlets but the spirit of freedom and social justice is the same. This spirit is inherent and resides in all. There is continuity as people, working as a team with others, ensure that the vision and flame continues, across generations and places, being nourished and nourishing. There is a Gandhi, a Martin Luther King Jr, and a Coretta Scott King in towns and villages all over the world. It is a process across colour, religion, culture, and generations. As our sister Maya Angelou, a co-worker in action for justice and human rights, has continuously said, "we are more alike than unalike." Changes have happened in the USA. But there are still many gaps. The New Orleans hurricane and floods showed that race was still a factor in human relations. There are still imbalances that are residues from racist designs and actions of the past. America is not yet healed.

The racist Ku Klux Klan still makes open processions. And a huge number of African American men, because of factors like prejudice or social conditioning, are still destined to serve the state through prisons.

Poverty is high in the USA, with over 45 million, many of them African-Americans, in material poverty.

Many people in the US believe and behave as if they are Americans before they are humans. That can be patriotism against others. Such patriotism is not based on the true nature of humans and life but political manipulation of illusion and egos. We believe no person is inherently superior or inferior to others due to birth and nationality. We believe a person born amongst the San people in the deserts of Botswana can learn to fly that great airship, Boeing 747, just as a Euro-American can learn to live and survive in the sands of the Kalahari.

For us, Brazil is example of how a Caucasian can be brought up to behave without superiority towards people of other colours. The behaviour of superiority that people of European descent feel towards others is largely learnt and conditioned. It is not natural. It can be unlearnt. Under good conditions, people do not grow up with racial superiority and inferiority prejudices.

Yet America has great variation. At individual level, Americans can be some of the most giving of poeple to others in need. Some of the greatest campaigners for a humanity that is a family and beyond artificial states are in the USA. Some of these will be critical of their government if that government is not right. USA poses big potential for human growth as it is very diverse and the world assembled.

But through its recent actions of war, President George Bush has contributed to great conflict in the world, moving US citizens away from the common humanity they belong to. Through actions of Bush, there is greater religious, cultural, and racial tension. Looking down over Africans and people of Asia and Latin America is not just a Euro-American problem.

Like under apartheid South Africa, there was grading according to skin colour, with the European as highest.

Some African-Americans, who consider Euro-Americans as the highest human, look down on people of Africa. In the US, in various states, I did meet Euro-Americans that were harsh, and I did meet, and can still point out, some African-Americans who were cruel and enslaving of Africans.

In various states, we met some Euro-Americans, like wise and deep Bruce, who used to help pick up litter from offices in Boston. Florida's Joan Dick and Heather McKinnley were very good and carried deep humanity. Amongst great African-Americans there were my brothers Bruce Bickerstaff, "Bruce the Barber," of Roxbury, Boston. There was selfless lawyer Frank Campbell and Prof James Pritchett, who were great human beings.

Considering the strength of the divisions passed on across generations, there is still much to be done to strengthen relationships between people in Africa and African-America. We feel that very little economic investment can happen when relationships are not deep.

Some people were cautious of the direction of the King Centre, but within those limitations, many still recognise the great work of Mama Coretta Scott King.

Summed up a Dr and Mrs King contemporary and co-worker, Jesse Jackson, on Tuesday said, "her legacy is secure as a freedom fighter, but her work remains unfinished." We feel to us, the living, is left the torch of living, a torch we must pass on in relay all over the world.

http://allafrica.com/stories/200602030598.html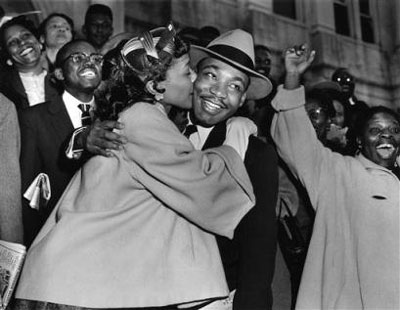 She Helped to Transform America and Expose the FBI's Role in the Harassment of Civil Rights Leaders




Coretta Scott King was More Than Just Dr. King's Wife


By EARL OFARI HUTCHINSON

February 1, 2006

"I certainly appreciate your concern, and I would appreciate anything that you can do to help."

That was the dignified but worried request for help that Coretta Scott King made in a phone conversation with then Democratic presidential candidate John F. Kennedy. There was good reason for worry and the plea for help. In early 1959, her husband, Dr. Martin Luther King, Jr., was sentenced to four months of hard labor at Georgia's notorious Reidsville State Prison after being arrested on a trumped up traffic warrant and for violating probation.

The second charge stemmed from King's earlier arrest at a sit-in demonstration. Coretta was deeply pained that King might not make it out of Reidsville alive. There had been rumors and threats of foul play against him. During the tense days of King's imprisonment, Coretta had frantically worked the phones trying to get any help she could for King's release.

At the time, Kennedy was locked in a tight White House race with Republican Vice President Richard Nixon. Kennedy made the call partly out of sincere concern for King, and partly with an eye on the black vote. Coretta's efforts paid off for King, and Kennedy, and sunk Nixon. The Democrats turned the call into a giant public relations coup. Kennedy's action was credited with tipping large numbers of blacks toward the Democrats, Nixon, the early odds on favorite to win the presidency, lost by a narrow margin. King was soon released unharmed, and the civil rights movement gained greater steam and vigor in the next couple of years. Coretta's dogged determination to save her husband, energized the civil rights fight, and changed the course of a presidential election, and race relations in America.

It was fitting that Kennedy's life affirming and politically profound phone call was made to Coretta. In December 1955, she and King anxiously kept watch at the front window of their home in Montgomery, Alabama to make sure that there were no black riders on the buses. She stood, walked and cheered arm in arm with him at countless civil rights marches, demonstrations and rallies.

She endured King's long absences and the gossipy rumors of his infidelities, and kept the family and the marriage together. That meant great personal sacrifice.

For years, the King family lived in what charitably could be described as a ramshackle house. As his family grew in size, friends and family members begged him to move to a larger house. King resisted.

An exasperated, Coretta fired back at the King critics that he "felt that it was inconsistent with his philosophy" to own property. Eventually. King gave in and paid the grand sum of $10,000 for a bigger home. But he continued to complain that the house was "too big" and "elegant." Though King critics delighted in taking took pot shots at him for his shun of personal wealth and the ownership of private property, Coretta's great concern remained in fulfilling King's dream, and that did not include fattening their bank account.

In the decade after King's murder, Coretta did not fade from the scene. She continued to storm the barricades against racial injustice, economic inequality, military adventurism, and against hate crimes and violence.

She wrote countless letters, gave speeches, and participated in direct action campaigns. She continued to fiercely protect King's legacy from the opportunists that twisted, and sullied his words and name. In 1996, a group of black ministers in Miami circulated a flier with the picture of King to hundreds of black churches in Miami-Dade County. The fliers denounced gay rights. The group claimed that gays were expropriating the civil rights cause to push their agenda. In a public statement, Coretta denounced the ministers and noted that King would be a champion of gay rights if he were alive.

A month before Ronald Reagan grudgingly signed the King holiday bill in November 1983, he made a public crack about King being a possible Communist sympathizer. Coretta was hurt and stung by his false, and insensitive slander. A chagrined Reagan quietly called her and apologized.

Coretta never bought the official line that King was gunned down by lone assassin James Earl Ray. When Ray demanded a new trial, Coretta went to bat for him, and testified in court that Ray should get another trial. Her concern was not with Ray, but as she put it "to determine the truth" about King's assassination. Though there is no evidence of a government plot to kill King, Coretta still wanted to put the FBI and the government on trial for its decade long patently illegal, stealth war of harassment, surveillance, intimidation, and poison pen letters against King and other civil rights leaders.

The friction over the affairs of the King Center that cropped up in recent days will not alter the judgment of history about Coretta. She and King shared the same relentless passion and vision that helped permanently transform

American society and enrich the lives of millions of Americans of all races. She was more than just King's wife.

Earl Ofari Hutchinson is a columnist for BlackNews.com, an author and political analyst.

http://www.counterpunch.org/hutchinson02012006.html

Alumni Profile: Coretta Scott King '54, '71 hon. D.M.


Music Education



Coretta Scott King worked up until her death in 2006 in pursuit of civil rights for all Americans--a destiny that began when she met her future husband, Dr. Martin Luther King, Jr., while both were students in Boston. Coretta Scott King's success in raising awareness and inspiring social and legal change is a monumental part of our nation's history. At New England Conservatory, Coretta Scott King was a singer who completed a degree in Music Education--a very popular degree path for her generation.
Google Picks Shuttleworth's Ubuntu

Business Day (Johannesburg)
February 2, 2006
Lesley Stones
Johannesburg

SOFTWARE developed by a company founded by local billionaire Mark Shuttleworth has been installed by Google, the world's most-used search engine.

Despite such a prominent endorsement, Shuttleworth will not be making any money: the software is free to use.

Since selling his internet company to Verisign for $575m in 2000, Shuttleworth has become a champion of open source, the free-to-use, free-to-alter software that challenges costly brand-name products.

Shuttleworth invested $10m in his new venture, Canonical, which developed the Ubuntu operating system that Google has installed on its internal computers. Ubuntu's underlying code is open for anyone to modify to suit their needs.

News that Google is using Ubuntu first appeared on online technology news site, The Register. The website speculated that Google was using Ubuntu to develop an operating system which it would launch to the public as a free alternative to Microsoft's Windows software.

Google is seen as one of a handful of companies with the muscle to challenge Microsoft's desktop dominance by offering open-source alternatives.

Google has denied the speculation. "We utilise the Ubuntu technology for internal use, but have no plans to distribute it outside of the company," a spokeswoman said.

Whatever Google's reasons for installing Ubuntu, the work its developers do to adapt and improve the product will benefit Ubuntu, which comes with a word processor, database, e-mail, internet browser, spreadsheet and presentation programs.

"We are extremely proud to have Google as a client," said Canonical chief operating officer Jane Silber. Google's adoption of the software was significant in showing the rest of the world that Ubuntu was a viable desktop system for any company or government in any country, she said.

Ubuntu is emerging as a leading open-source application, and Shuttleworth is negotiating with computer manufacturers to start selling PCs with the system preinstalled. Locally he is talking to Mustek, which produces SA's best-selling Mecer computers, and with local manufacturers Pinnacle and Sahara.